Search found 22 matches
by Isaac

Thu Jan 23, 2020 4:13 pm
Forum: Modding
Topic: transparency question
Replies: 4
Views: 10375
edit: somehow even if i save this, every time i reload the lvl this value gets unchecked. I guess there is some other value i have to set to keep the changes but i havn't found how tbh. So maybe you know how to do this also :P ? I didn't even think it was possible at first, and posted that initiall...
by Isaac

Wed Jan 22, 2020 8:37 pm
Forum: Modding
Topic: transparency question
Replies: 4
Views: 10375
The PASS_MASK_FLOOR property of the object's model allows this.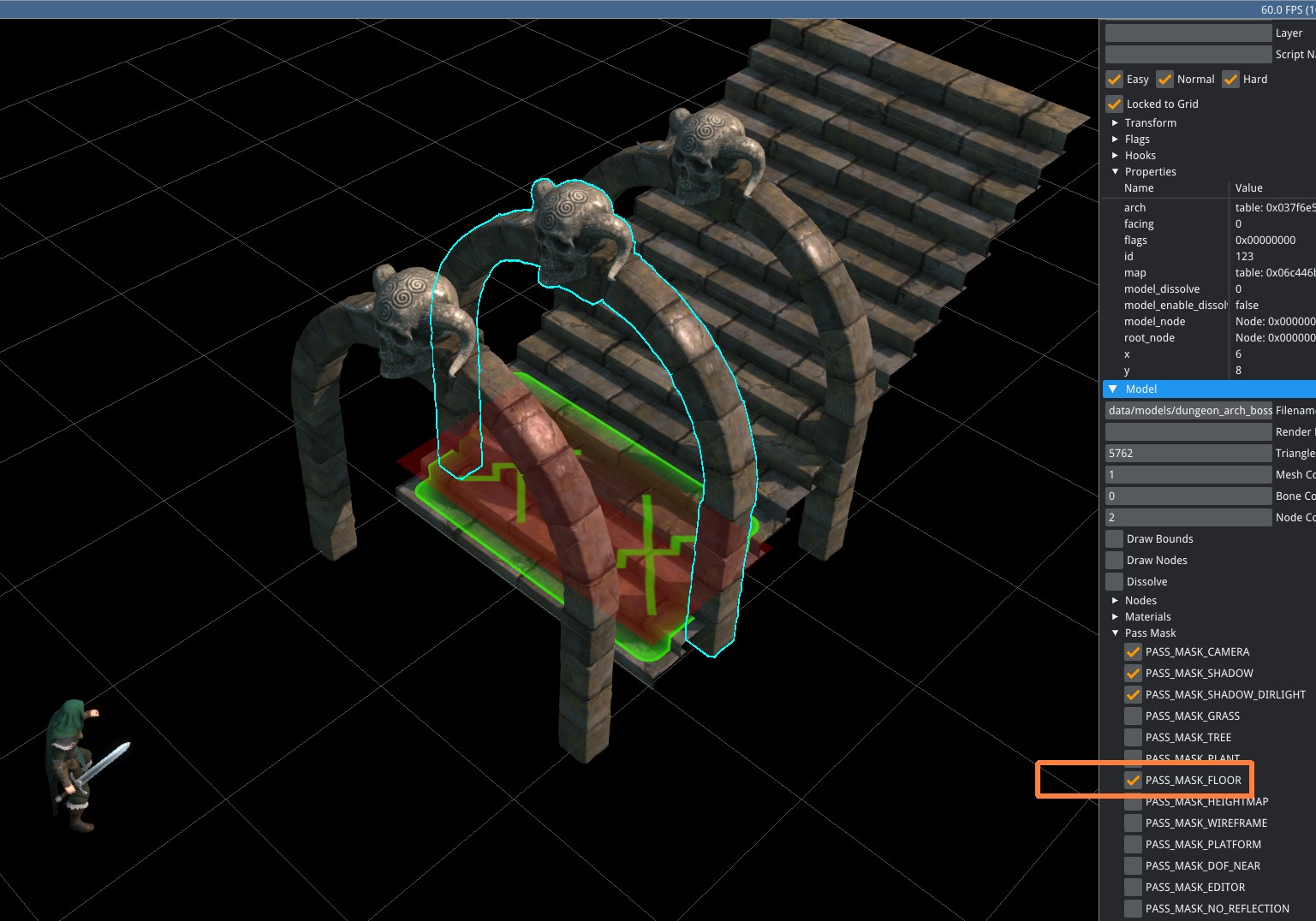 And welcome to the forums.
by Isaac

Tue Oct 15, 2019 5:32 am
Forum: General Discussion
Replies: 1
Views: 10132
The Druidstone engine looks great, and would seem well suited to a conventional top-down isometric style RPG along the lines of Temple of Elemental Evil; or in the very least in the style of Pool of Radiance [1]. Imagine ( as you might already have ;) ) an hybrid that gives the Grimrock FPP explorat...
by Isaac

Tue Oct 15, 2019 5:16 am
Forum: Modding
Topic: Asset pack released
Replies: 5
Views: 5731
Age of Wonders 3 has a toolkit that allows for importing models to be applied to their skeletons; and to use their animations. What it does not do, is allow the end user to export the game models. For Druidstone, it could be enough to allow user animations for the official skeletons... as well as (h...
by Isaac

Fri Aug 23, 2019 8:34 am
Forum: General Discussion
Topic: Great game, but . . .
Replies: 15
Views: 13505
I was impressed with the many ways that the abilities can compliment each other during the battles. I was even able to save characters, and achieve victory by pulling one enemy into another when they both had 1 hitpoint left. Another time I won by teleporting Mad-Eye onto the lightning glyphs. I hav...
by Isaac

Thu Aug 22, 2019 6:36 am
Forum: General Discussion
Topic: Bug Reports
Replies: 6
Views: 6651
Not the only one... Crashed during the second stage of the last battle; after the Sorceress/Drider—Demon adopted the defense stance. Ava was knocked out, she was later revived (with one hitpoint), she then drank a potion... and crash; CTD. https://dl.dropboxusercontent.com/s/t0ncwccdecv6e6b/second%2...
Another possible bug:

It seems that the sirens can cast the suffocate spell while they are themselves suffocating from the spell being cast upon them.
The description says that the target cannot cast spells while suffocating.
Animal opponents still halt and do nothing when a path to the party is not apparent, but this blocks the more intelligent enemies who can trigger switches. So this can create a situation where spells & range weapons can pick off the enemies with no risk. https://dl.dropboxusercontent.com/s/3ijyasrc9...
by Isaac

Thu Jun 27, 2019 1:30 pm
Forum: Modding
Replies: 3
Views: 4896
JohnWordsworth

wrote:

↑

Thu Jun 27, 2019 9:17 am

Back in the Grimrock days we used to chat on Skype.
We still do... That chat has been continuously active for seven years.
(With new chat posts as recent as yesterday...)
by Isaac

Thu Jun 20, 2019 6:31 pm
Forum: Modding
Topic: Asset pack released
Replies: 5
Views: 5731
In the case of reskinning the textures, yes indeed... but without the model, one could only preview their results in the game; rather than be able to inspect (and correct) it from any angle on the model. If one has access to the models, one can —potentially, with the right tools— create additional a...